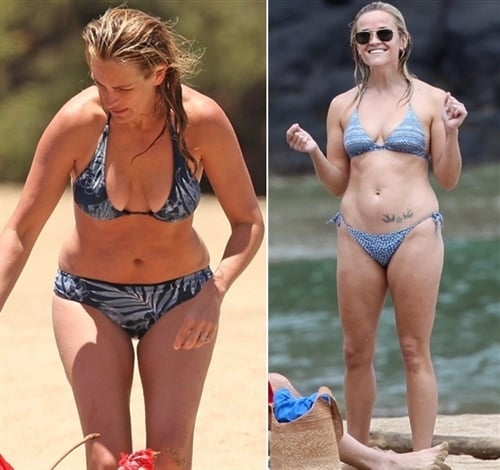 ---
Old Hollywood whores Julia Roberts and Reese Witherspoon flaunted their worn out flabby bodies in bikinis yesterday. Obviously both Julia and Reese deserve a righteous and vicious stoning for affronting our Muslim aesthetic with their horrible bodies in bikinis, but if you could only stone one of them which one would you choose?
For me the choice is simple, Julia Roberts. I've had Julia on my "to stone" list ever since she played herself in the documentary "Pretty Woman". Julia made matters worse when she portrayed the lipy, sass-mouthed female lawyer in "Erin Brockovich" a few years later. While it is true that Reese Witherspoon also portrayed a smart-mouthed lawyer in the "Legally Blonde" series, it was not nearly as offensive a character.
Yes both Julia Roberts and Reese Witherspoon would make great targets for a prospective stoning, and not just because of their bulging midsections. Now lets discuss who we would rather stone in the comments below. Allahu Akbar!