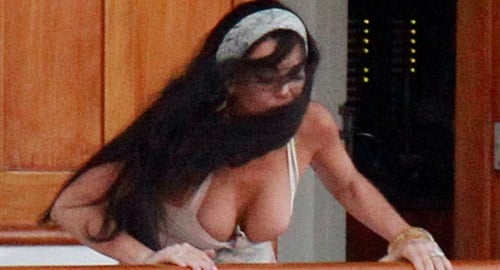 ---
After being blackballed in Hollywood and years of legal troubles, Lindsay Lohan has finally gotten back to acting playing Elizabeth Taylor in the new Lifetime biopic about the actress.
Already Lindsay is showing that despite the lay off she still has her acting chops by having her boobs fall out repeatedly in a scene captured in the photos below.
Yes Lindsay Lohan perfectly encapsulates the shameless Jew whore Elizabeth Taylor by showing her titties in these pics. If in this movie she also flashes her enormous saggy piss flaps while rambling about diamonds then Lindsay will have brought Liz Taylor back to life on the small screen.