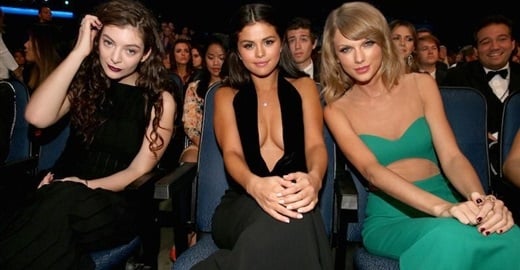 ---
Selena Gomez completely embarrassed herself while not wearing a bra at the American Music Awards in Los Angeles last night.
As you can see in the photos below, when Selena Gomez wasn't flaunting deep cleavage while in the audience dyking out with Taylor Swift and her girlfriend Karlie Kloss, she was performing on stage crying about how much she misses Justin Bieber's tiny pecker inside of her, and mocking Islam by walking the red carpet in a flimsy burka with her nipples clearly poking through the fabric.
Yes Selena Gomez made quite the fool out of herself as she paraded her sloppy Mexican tits around the AMAs. Thank Allah Selena's voice sounds worse then the whining of the mules back in her donkey show days in Tijuana, for this should be the last time Selena ever gets invited to the AMAs (or any music related award show for that matter).