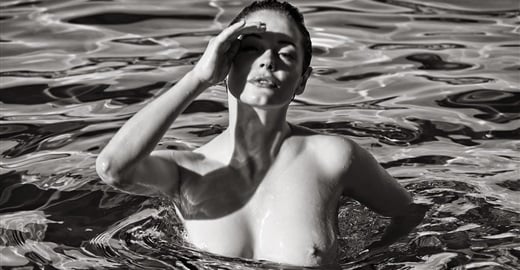 ---
Rose McGowan, star of numerous independent films and the TV show "Charmed", poses nude for the new issue of Flaunt magazine.
Like many of you I assumed Rose McGowan died from a heroin overdose back in the mid-2000's, but as you can see in the photos below she is (probably) still alive (or Flaunt magazine has one hell of a taxidermist) and up to her old tricks whoring her shameful nude feminine body.
In fact it appears as though Rose McGowan has become more shapely, womanly, and bosomy, and thus even more offensive to Islam over time. If Rose thinks the tiny patch of pubic hair she is sporting between her legs makes up for exposing her blasphemous curvy hips and bulbous breasts she is certainly deranged. For Rose would need a full belly button to thigh bush of the thickest darkest mustiest pubic hair to appease us outraged Muslims and save her from the mujahedin stoning squads after this nude photo display.