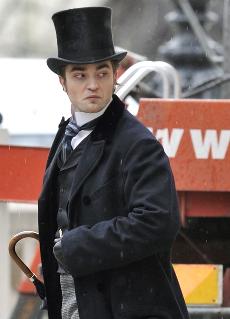 Robert Pattinson's carriage struck and killed a young peasant boy on Monday as it recklessly sped thought the streets of Paris. Onlookers say that the carriage may have been trying to avoid the paparazzi.
The boy, who was identified only as the son of a local Parisian named Gaspard, was killed instantly.
"The boy was just crossing the street when the carriage came speeding through, " said Defarge, a local shop owner. "I ran over to comfort the father, and the next thing I know Robert Pattinson leaned out of the carriage and threw coins at us."
Added Defarge, "It was the coldest, most insulting gesture I've ever seen."
In a statement released on his Twitter feed, Pattinson apologized for the accident, but defended his actions in the aftermath.
"My attempt to make amends for the boy's life with three gold coins was met with scorn. It's more than his father's yearly wages!" he posted, adding in a second post, "These peasants would be wise not to let their children play in the streets."
Pattinson is in Paris for his latest Film, Put Your Sausage in My Biscuits Vol. 17. Filming is set to resume on Wednesday.