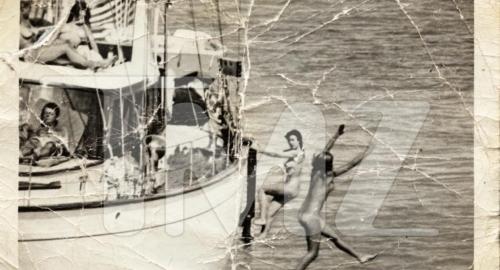 ---
TMZ has reportedly found a picture from the 1950's of John F. Kennedy on a boat filled with naked women. The picture shows two naked women jumping off the boat (presumably to escape), and two more naked women sunning on the top deck (presumably too frozen by fear to attempt an escape). Just below the top deck John F. Kennedy is lying sunning himself, and preparing his mind for the insane amount of wild sex to come.
Professor Jeff Sedlik, a forensic photo expert, says the print appears to be authentic. Sedlik says the photo is printed on paper consistent with what was used in the 1950s. The emulsion on the surface of the print has numerous cracks the result of aging, handling, and beating off too.
There are numerous articles and books on John F. Kennedy which mention a Mediterranean boating trip that he took in August, 1956, with his brother Ted Kennedy and Senator George Smathers. It was rumored that they entertained a number of women on the yacht, as Ted Kennedy entertained a number of whiskeys in his liver.
Jackie Kennedy was pregnant at the time, so John was looking to get some strange pink to stick it in. Ironically Jackie was rushed to the hospital while JFK was on the sex boat. Doctors performed an emergency C-section, but the infant was stillborn. If John would have just waited a week he could have plowed his wife when she got home from the hospital.