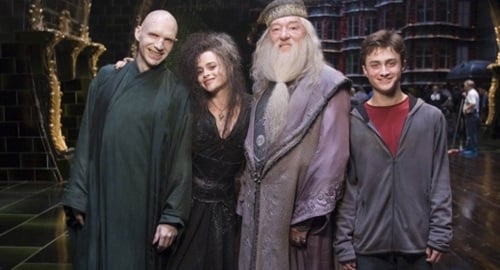 ---
Harry Potter is a hoax! The picture above of Harry, Dumbledore, Bellatrix, and Lord Voldemort all happily posing together proves that the Harry Potter cult is based on a lie.
Heathens in the West have long worshiped the Harry Potter series as their new religion. Though it is a vast improvement over their love for the Jew God Jesus it is still heresy against the one true religion of Islam.
Now that Harry Potter has been exposed as a lie, there is no doubt that there will be countless Westerners searching for a new religion to follow, and I would just like to suggest they strongly consider converting to Islam.
Not only will it save your life in the coming Jihad when Islam conquers the Western world, but it is also an awesome religion. We get to wear pajamas all day every day, take breaks from work to go "pray", and have sex with as many women outside of marriage as we want.
Yes Islam is the light and the way. You disillusioned Harry Potterites should embrace Allah as your lord and master and join our brotherhood… oh but no fat chicks allowed. Allahu Akbar!