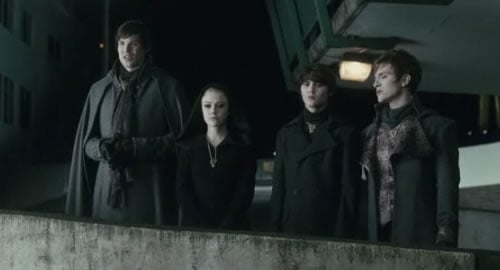 ---
OMG, Twilight fans! Have we got a treat for you. There's a band new clip from Eclipse, and we have the exclusive video.
In the new scene, the Volturi, a group of homosexual emo kids, are stranded at a parking garage when their parents forget to pick them up from a Death Cab for Cuttie concert. While the group hatches a plot to sell their bodies for cash in order to pay for the bus ride home, a group of Seattle's fabled "white homeless" begin to riot when they are informed that their food stamps will no longer be accepted at Starbuks. Pretty exciting stuff.
The best part of the clip is Dakota Fanning. She plays Jane, a vampire who was injured as a child and lost the ability to act. Enjoy!